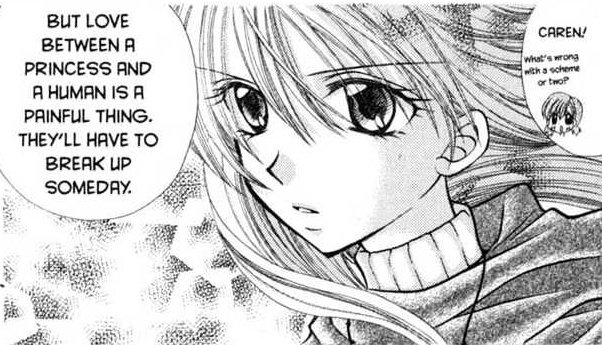 ☄ First Impressions





♚ VISUAL:

Caren in human form is taller than the younger girls in canon, but a regular-height young woman with periwinkle drill hair. Her eyes are grey and her skin is a tinge brown. As a mermaid, her hair and eyes turn bright purple and she has a thick purple tail. Caren's ethnicity is ambiguously Chilean, though in-universe it's just "purple mermaid."


♚ FASHION:

Early 2000s. Caren wears ripped jeans, fuzzy belts, bucket hats, the works. She usually has a lot of purple in her wardrobe and a lot of animal prints, usually leopard print. As a mermaid, she just wears a shell bra and some bracelets normally, though formal events require frilly overskirts and more jewelry.


♚ DEMEANOUR:

Caren always looks mature and usually in control of things -- that or just annoyed.


♚ SOUND:

This is not nails-on-chalkboard anime Caren. Manga Caren I headcanon as having a deeper voice that fits her "mature older girl" character.


♚ SCENT:

The ocean, probably, or that "snow" scent that was popular around the early 2000s and smelled nothing like snow.


♚ MENTAL INFORMATION:

Pretty normal there.


♚ MAGICAL INFORMATION:

Caren's a mermaid and a magical girl, so there's that.




☄ OOC





♚ BACKTAGGING:

Always.


♚ FOURTHWALLING:

Love it.


♚ PHYSICAL AFFECTION:

She'd be weirded out, but ask me.


♚ PHYSICAL VIOLENCE:

This is a murdergame.


♚ RELATIONSHIPS:

Caren is pretty guarded about romance, but I don't see why not. Again, this is manga Caren, who is considerably less straight than her counterpart from the anime.